Top 10 Digital Marketing Companies in Ottawa, Ontario
Scope of Digital Marketing Services in Ottawa
Digital Marketing is the new found path for marketers to reach their target audience. The digital era has taught us ways to utilize the web to market products and services effectively.
With the rise in internet penetration, digital marketing services & agencies has grown many folds in Canada.
In 2017, Canada had around 33 million internet users, which increases every passing day. So without a digital marketing strategy, businesses will lose their relevance in the market if the users cannot find them online.
The rise in digital marketing services equates to an increase in digital marketing jobs. There were about 5282, 4922, 727 and 4000+ digital media jobs in Canada listed on Indeed, Workopolis, Monster and LinkedIn, respectively.
The median salary of a digital marketer in Canada is somewhere between CAD $53257- CAD $68,000. Digital Marketing managers, SEO specialists, and SMM are among the highest salary drawers.
How a Digital Marketing Company in Ottawa can help businesses growth
Approximately 59% of the global population is active on the internet, and businesses can benefit from leveraging these digital privileges. Striking a healthy balance between organic & inorganic marketing is the key to boosting business growth and reaching out to larger audiences.
Some digital marketing techniques to boost business–
Search Engine Optimization– This is the most important digital marketing technique to be incorporated into a digital marketing strategy. SEO helps small businesses to rank higher on search results, provided that certain keywords used by users on search engines are to be prioritized. And the higher the ranking, the higher are chances of visibility.
Google My Business Page- Any business, small or medium, must be listed on Google My Business to increase local exposure. This service allows a business to be listed on Google Maps. It also helps rank high in local searches and enables users to find businesses in Google searches.
Email Marketing– It is a cost-effective method of communication with a large chunk of the audience. Email marketing can promote products, launch alerts of new products, and build and maintain relationships with existing customers. Emails also have the highest conversion rates as it is more engaging.
Social Media Marketing– Social media marketing helps marketers identify the right audience groups to target ads, maximize traffic, and ultimately boost business growth.
Pay-per-click campaign– Generating organic traffic is difficult and time-consuming. It involves short-term investment. PPC is an effective alternate tactic for faster growth. This increases the visibility of businesses on search engines.
The list-
A company is known for its brilliant online branding strategies aligned with clients' unique needs from different industry verticals. Alongside a strong and credible competitor and market research, the company specializes in brainstorming and developing ideas that will assist clients in achieving their goals at the desired scale. Besides Digital Marketing, Zencast offers Mobile application development, website design and development and graphic designing. Zencast's finesse and dedication to delivering excellence have made it a trusted name in the Canadian Digital Marketing sector.
     CEO: Rajkumar Prasad
     Registered: 2013
     Address: 1526 LOMA AVE LONG BEACH, CA,
      90804, US
      Call: +1 855 962 4420
    Mail: info@zencastmedia.com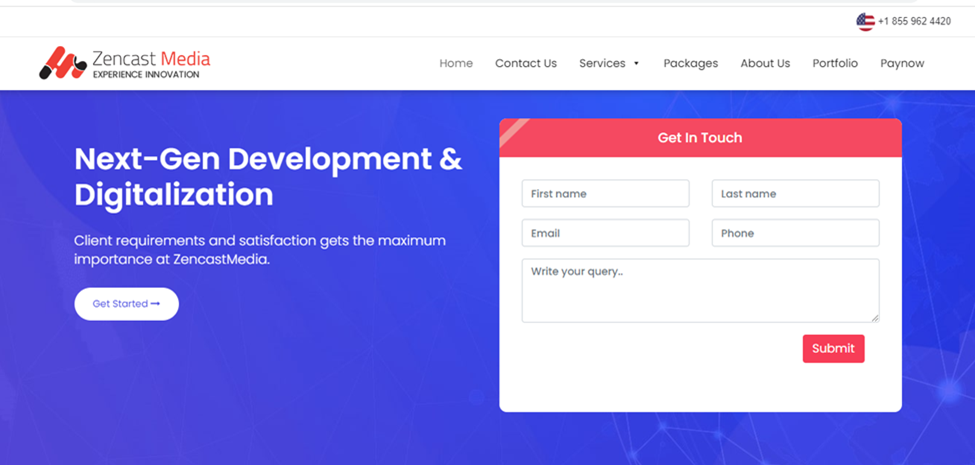 WebMarketers™ Digital Marketing – Ottawa
Web marketers is a results-driven marketing and web design agency with a team of expert designers, developers, account managers and SEO executives. Their key service areas are business strategy, web design and development, content writing, online marketing, email marketing, social media management, SEO, PPC and Inbound Marketing.
CEO: Kyle Smendziuk
Registered: 2013
Address: 180 Preston St Suite 200, Ottawa, Ontario K1R, CA
Call: +1 844-932-6688
Mail: info@webmarketers.ca
Mediaforce
Mediaforce is one of Canada's top digital marketing company in Ottawa. They are rated one of the top PPC firms in Canada in 2022. They provide strategic, data-driven marketing solutions, including Google ads, management, SEO, social media marketing, award-winning website design, and secured website hosting. Their offices are located in Toronto, Ottawa, Vancouver and New York.
CEO: Joe Bongiorno
Registered: 1996
Address: 150 Elgin Street
Floor 10, Ottawa,
ON, K2P 1L4
Call: 613-729-0500
Mail: info@mediaforce.ca OR jbon@mediaforce.ca
Seoplus+
SeoPlus+ is a digital marketing company in Ottawa serving businesses worldwide across many verticals to generate leads and increase sales. Their key area of expertise are SEO, paid Ads Management, content marketing, web design and development, digital PR and social media marketing. They are also Premier Google partner, Microsoft partner, and Shopify partners. They were also awarded the Canadian Search Awards in 2021.
COO: Brock Murray
Registered: 2012
Address: 333 Preston Street, Suite 1010
Ottawa, ON, Canada, K1S 5N4
Call: 1-866-980-PLUS (7587)
Mail: info@seoplus.ca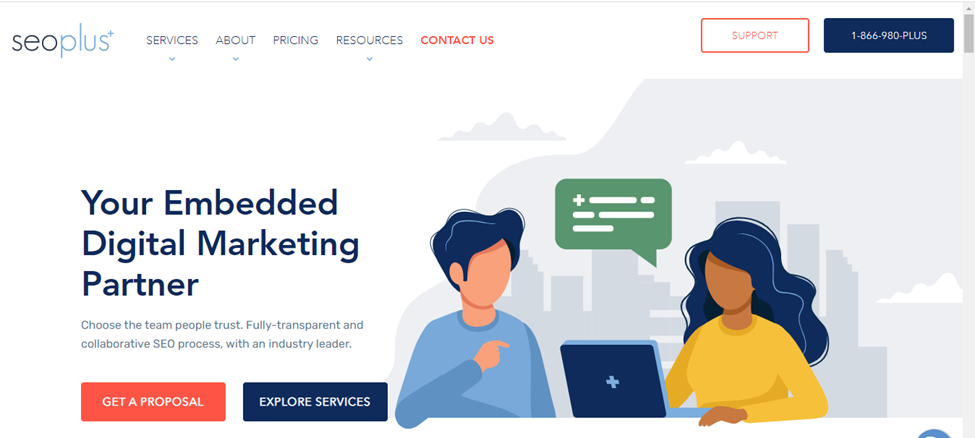 Marketing Breakthroughs
Marketing Breakthrough is Ottawa's leading digital marketing and branding company that offers a full range of marketing services. They provide more than 70 creative and marketing services. These services are customized to suit the requirement of a particular business. They offer digital marketing strategies, SEO, social media marketing, PPC campaigns, TV campaign and graphic designing services. They are also Google Partners.
President/Creative Director/CEO: André Mersereau
Registered: 1995
Address: 2255 Carling Avenue, Suite 202, Ottawa, On K2B 7Z5, CA
Call: (613) 721-3335
Mail: hello@marketingbreakthroughs.com
WSI eStrategies
WSI eStrategies is an award-winning digital marketing service provider in Ottawa specializing in web design, SEO, PPC and social media marketing. Their key services are SEO and PPC. They are also affiliate with Hubspot, Bing, Adobe, etc. Social media marketing, web design, online lead generations, web development, and marketing automation. They have been awarded 115 Web Marketing Awards since 2007.
Managing Partner/CEO: Mark Jamieson
Registered: 2013
Address: 860 Taylor Creek Drive 4,
Orleans, ON
K4A 0Z9
Call: 613.424.7042
Mail: info@wsiestrategies.com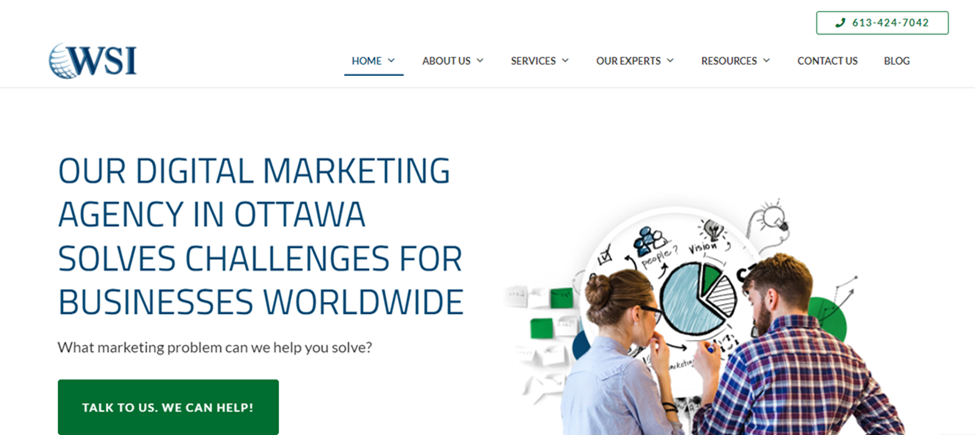 WebSuitable
WebSuitable is a digital marketing service provider that offers a full range of digital marketing services. Their services are Web design and development, SEO, social media management, advertising, PPC, Website maintenance, support, and content writing and marketing. They are also adjudged Ottawa's best SEO agency in 2022.
CEO:  Nik Paprocki
Registered: 2014
Address: 532 Montreal Rd, 525, Ottawa, Ontario K1K 4R4, CA
Call: 613.702.8181
Mail: info@websuitable.com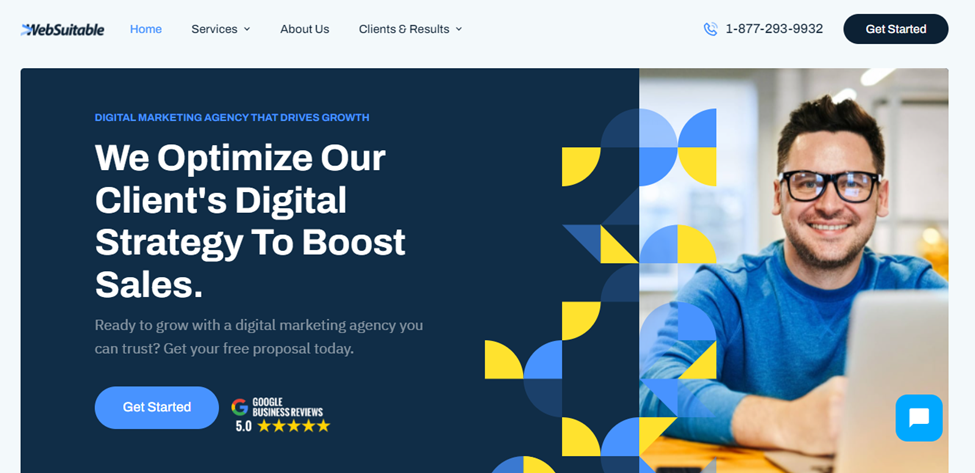 Azuro Digital
Azuro is an award-winning web design and development agency. They are accredited with over 100 five-star reviews online. Their key services are WordPress development, SEO, logo design and Branding. They are rated as one of the top Web Designers in Canada, in 2021, by Clutch. They are also rated 4.99/5 across 100+ reviews on trusted platforms like Clutch, GoodFirms, Google and Upcity.
Founder/CEO: Daniel Houle
Registered: 2018
Address: 150 Elgin St #1026, Ottawa, ON K2P 1L4
Call: +1 613-697-9740
Mail: info@azurodigital.com
Algorank
Algorank is a full-stack digital marketing company in Ottawa that offers a full range of web design and development services to businesses. They offer SEO, SEM, Social media campaigns, YouTube campaigns, web design & development, android & IOS app development. Algorank focused design solutions to enhance and boost the user experience are their forte.
Project Lead/CEO: Shawn Liu
Registered: 2017
Address: 115 Bank Street, Suite 23
Ottawa, ON K1P 5N5
Call: 613-416-9512
Mail: sales@algorank.ca
Ottawa Marketing Guys Inc
Ottawa Marketing Guys is an Ottawa based digital marketing consulting farm. They create effective marketing campaigns designed to suit a particular business requirement. They provide services such as google ads, facebook ads, instagram marketing, web design, geo-fencing and proximity marketing, videography and YouTube ads, & B2B marketing. Their path breaking new technology called "Geo-Fencing", that tags a phone location, which ultimately helps in targeting ads based on a specific location.
Director of Sales/CEO: Tanya Boodhoo
Registered: 2016
Address: 69 Preston St
Ottawa, Ontario K1R 7N6
Call: 613-709-5287
Mail: Info@ottawamarketingguys.com
We at Zencast Media LLC have sincerely tried to list the best digital marketing companies in Ottawa, Ontario, Canada. We hope this will help you choose the most suitable digital marketing transformation company for your business to grow and prosper.