The Top 11 Popular Digital Marketing Companies In Canada
List of 11 Digital Marketing Companies in Canada
Digital Marketing Companies in Canada
Digital Marketing Companies in Canada carry a reputation of being modest as well as industrious when it calls for setting up a digital business across Canada.
They can extend their line of endeavours with new skills, tricks and tips with incredible results. Being one of the most immigration-friendly countries in the world, Canada welcomes people of different ethnicities to significantly be a part of strengthening their economy.
The Canadian products, as well as services have an excellent reputation across the global market which gives entrepreneurs an edge of confidence in taking their businesses to the higher grounds of risk, returns and growth.
The Importance of Digital Marketing for Business Growth
As you are reading this informative piece, Web 2.0 is gradually shifting its base to Web 3 where goods and services in the market have greater exposure to the digital medium, without any physical barrier.
Since the time of the infamous lockdown, the global economy experienced an overnight collapse, at least for the majority of industries, if not all. But the shift and inclination of global consumerism opened doors for various businesses to go online.
Yes, before the Covid era, some businesses did have their digital presence, but after late 2020, the dependence on the internet increased for people and to reach them, businesses started to tap on to this trend for reaching a larger base of customers, beyond the usual.
And what helped them in their tryst? Digital Marketing!
Digital Marketing Companies In Canada – An Insightful Listing Ahead
As a Canadian entrepreneur, chances are you have already thought of traversing the digital path to take your business to the next level of success. Let us tell you that you have arrived at the right place because in this write-up, we will be presenting 11 of the most trusted and renowned Digital Marketing Companies around Toronto and other major areas:
The Top 11 Popular Digital Marketing Agencies In Canada
A company is known for its brilliant online branding strategies that are aligned with the unique needs of clients from different industry verticals. Alongside a strong and credible competitor and market research, the company specialises in brainstorming and developing ideas that will assist the clients to achieve their goals at the desired scale. Other than Digital Marketing, Zencast offers mobile application development, website design and development and graphic designing. Zencast's finesse and dedication to delivering excellence have made it a trusted name in the Canadian Digital Marketing sector.
CEO: Rajkumar Prasad
Registered: 2013
Call: +1 855 962 4420
Mail: info@zencastmedia.com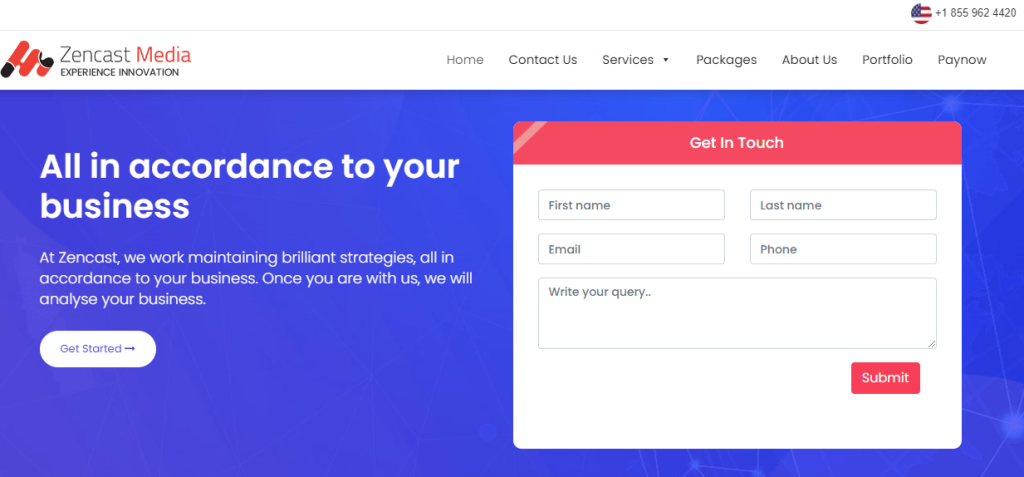 2. Brand & Mortar
Brand & Mortar has a great presence as a branding agency in Toronto. They are an award-winning full-stack company that specialises in SEO, PPC Ads, Content Marketing, Web Design & more. They have assisted thousands of businesses across North America with strategic brand management solutions to grow and scale to be household names. Strong communication and result-driven strategies are their strong fortes.
CEO: Jordan Shea
Registered: 2014
Address: 31 Powerhouse St. Suite 203
Toronto, ON. M6H 0C7
info@brandandmortar.com
Call: 416 729 1154
Mail: info@brandandmortar.com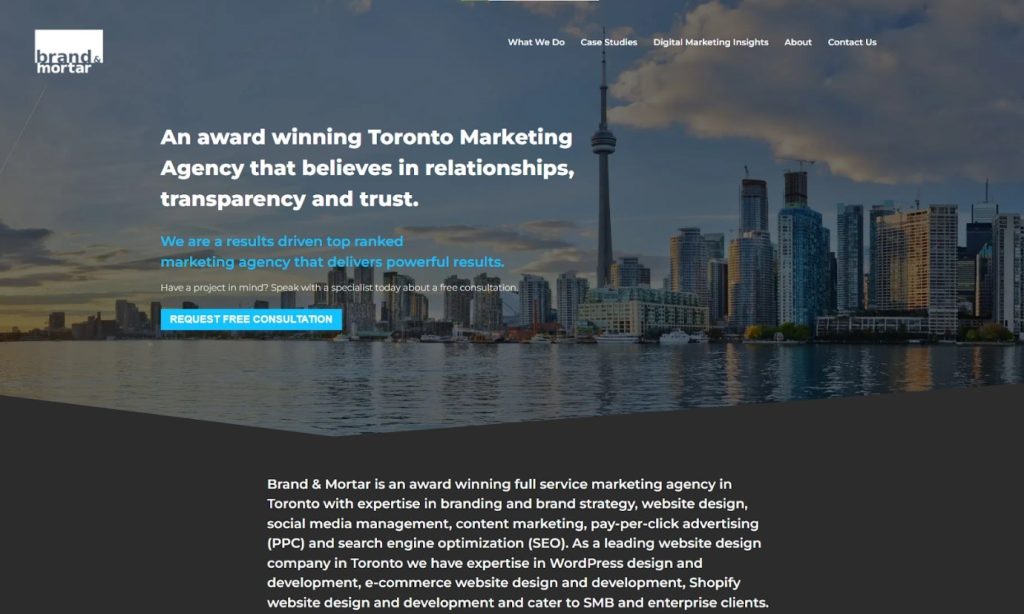 3. BrandLume Inc
Meet all your digital marketing requisites all in one single place – that's what BranLume speaks volumes of. They also harbour a non-sales support team, so say bye-bye to those annoying mails and calls that pitch unnecessary services. They offer solutions for SEO, PPC, SMO, Website designing and development & many more. In fact, subscribing to their services is as easy as buying a shirt on Amazon – as they coin it as Amazonification!
CEO & President: Raham Laridashti
Registered: 2018
Address: 91 Oxford St, Toronto, ON M5T 1P2
Call: +1 855-864-6283
Mail: jane.doe@brandlume.com
4. EDKENT® Media
Edkent Media is Toronto's one of the leading digital marketing companies in Canada which have created a name for itself with high-quality service and delivery excellence. In the cluttered industry of digital marketing service providers, they put forward customised and competitive strategies that open multiple doors to growth potential for businesses of all sizes. They make a simple and straightforward approach.
Managing Director: Kenny Tripura
Registered: 2013
Address: 3075 14th Ave. #212, Markham, ON, L3R 5M1 Canada
Call: +1 6473611074
Mail: info@edkentmedia.com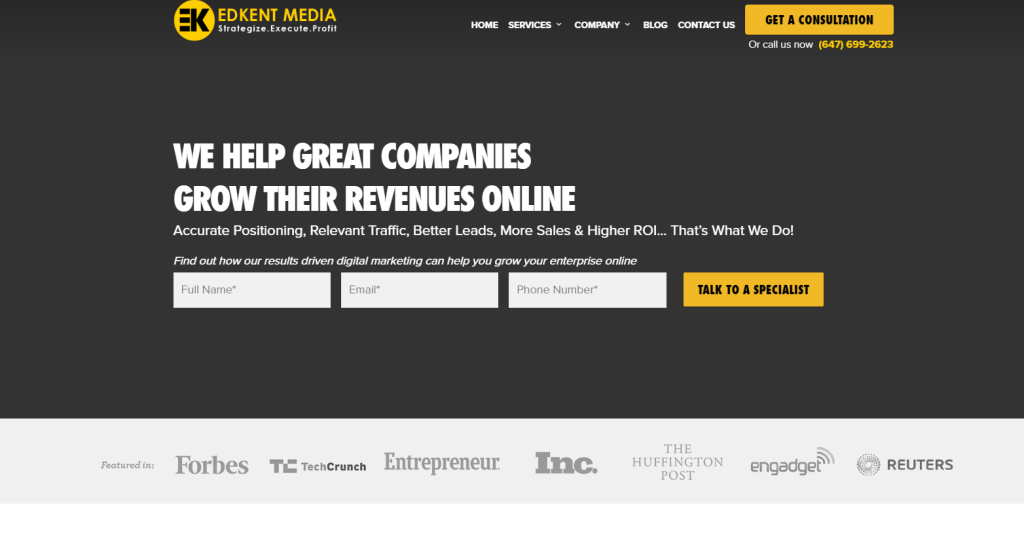 5. Awkward Media – A Creative Marketing Agency
Built on the freedom of imagination, Awkward Media stands strong with a talented team of creative bugs that do their job the best. Their digital marketing services are entirely fuelled by the flair of unconventional ideas and the artistic flair of talented individuals, who find inspiration in nearly everything, everywhere!
CEO & Founder: Zarar Rasool
Registered: 2011
Address: 230 – 43 Hanna Ave,
Toronto ON M6K1X1, Canada
Call: 647) 519-6497
Mail: info@awkward-media.com
6. Local SEO Search INC
The founder John Vuong passionately pursued a career in high-quality marketing and so, later on, he created a local SEO search to assist the small, medium and large enterprises of Ontario, Toronto and other Canadian cities to create strong digital footprints in the market. The company is a family-focused boutique agency that establishes a long-term agency-based relationship with its cutting-edge SEO services.
CEO: John Vuong
Address: 210 Simcoe St Unit 2109, Toronto, ON M5T 0A9
Call: +1 416 888 8756
1 877 689 5268
Email: info@localseosearch.ca
7. Yopie.ca
Across the vast business communities of Brampton, Mississauga, Oakville, Toronto and Ontario, creating a niche in the already cluttered market can be difficult and Yopie.ca solves the challenge like a pro! With unparalleled concepts in digital marketing and scalable strategies, Yopie provides excellent services and assistance to its clients in achieving their digital growth goals.
Managing Director: Michael Pidgeon
Registered: 2015
Address: Yopie Digital Marketing
100 King St West
Suite 5700
Toronto, ON M5X1C7
Call: (416) 915-4268
Mail: info@yopie.ca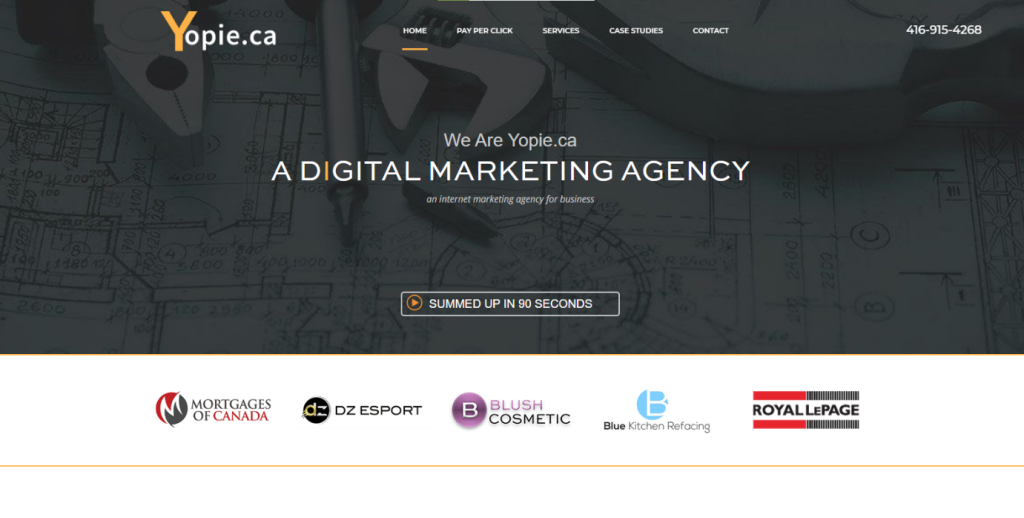 8. Volt Studios
As a multi-faceted production company, Volt Studios offers incredible production services in the form of creative videos, commercial videos, awareness campaigns and many more. They strive to make a visual impact on every client in the crowded market.
Founder: Steve Medin
Registered: 2007
Address: 733 S. Marquette Ave., Suite #1300
Minneapolis, MN 55402
Call: (612) 455-6161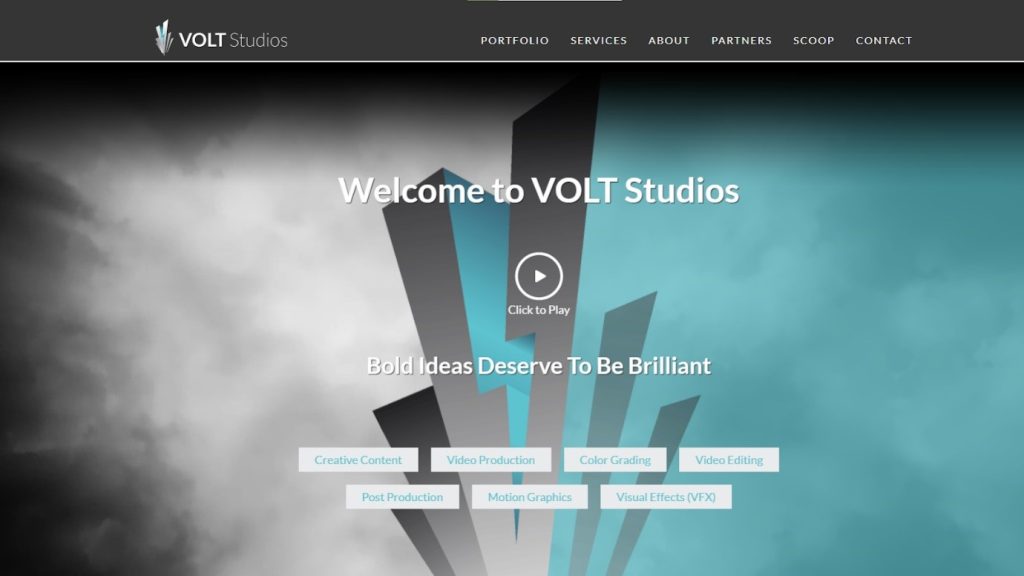 9. Canada Create™
Canada Create™ devices unparalleled methods that assist businesses to get greater visibility amidst tough competition. Their result-driven strategies attract the desired growth accents which give each and every client a brilliant scope for striking an optimal balance between demand and supply.
Founders: Vincent Brothers
Registered: 2008
Address: 126 Willowdale Ave #3, North York, ON M2N 4Y2
Call: (416) 273-9030
Mail: info@canadacreate.com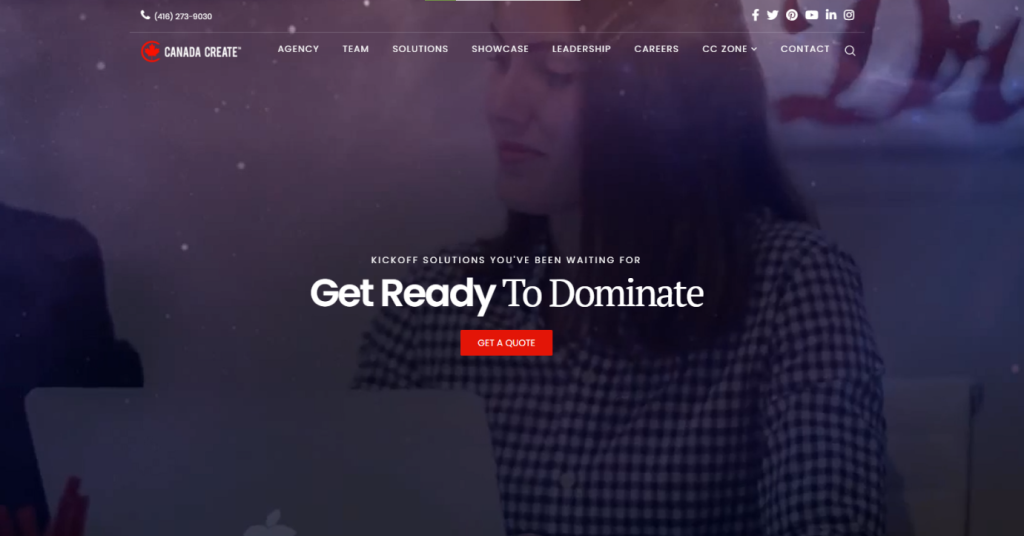 10. Search & Gather
A digital marketing agency that takes pride in taking the digital potential of a business to the next level with unparalleled strategies and results.
CEO: Drew Karges
Registered: 2016
Address: 18 Hook Ave #201, Toronto, ON M6P 1T4, Canada
Call: +1 (647) 544-3684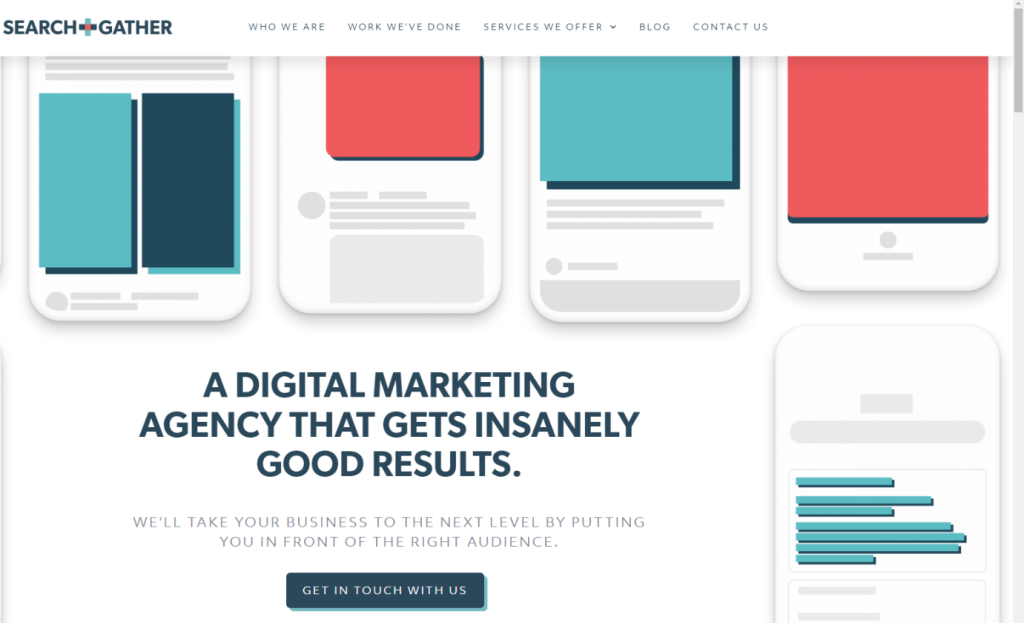 11. MacRAE'S
The digital marketing agency is one of Canada's leading experts in B2B marketing and information services. They have helped hundreds of clients across the globe with fabulous digital marketing strategies that helped them create a niche in a crowded industry.
CEO: Hugh Owen
Registered: 2000
Address: 507 Lakeshore Rd E #206, Mississauga, ON L5G 1H9, Canada
Call: 1.877-629-6104
Conclusion
Well, that's it! Zencast Media has listed some of the most popular digital marketing firms in Ontario, Toronto and other cities of Canada with the hope that this list will help you in choosing the right agency, aligning with your requisites.